FLOOR PLANS
Your newly renovated one or two bedroom apartment home features a fully-equipped kitchen with updated cabinets and counter tops, brushed nickel hardware/fixtures, and a pass-through bar into your spacious living and dining room. The new wood-grain vinyl flooring and plush carpeting add a touch of luxury to your already impressive Forrest Pines Senior home. Each floor plan also comes with your choice of private patio or balcony and includes convenient exterior storage!
Apply Now
THE SYCAMORE
One Bedroom/One Bath – 717 sq.ft.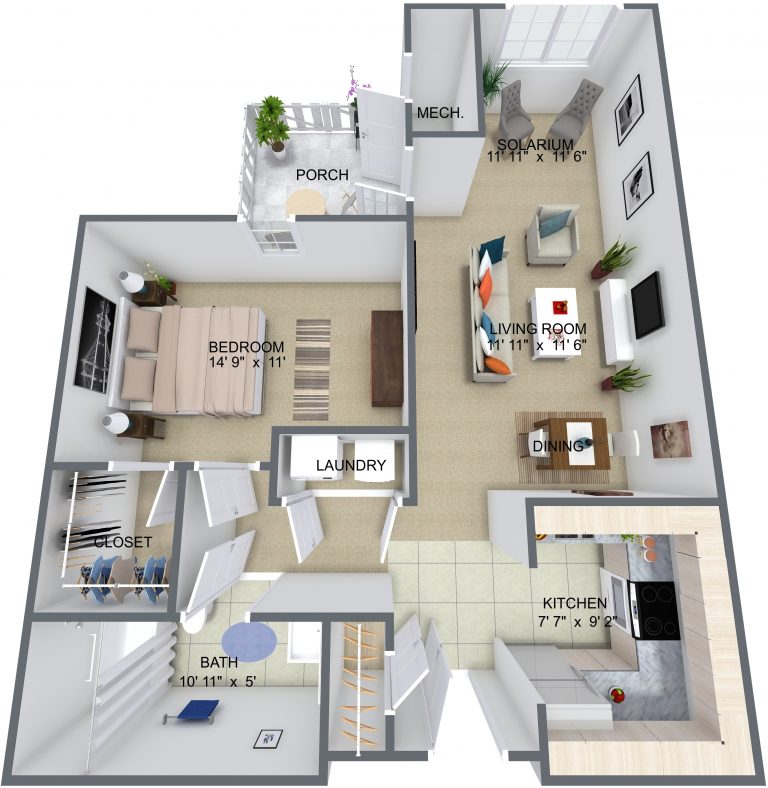 636 SQFT
Income Guidelines:
1 Occupant: $14,220  – $33,360 Annual Income
2 Occupants: $14,220 – $38,100 Annual Income
719 SQFT
Income Guidelines:
1 Occupant:

$14,184

– $33,360 Annual Income
2 Occupants: $

14,184

– $38,100 Annual Income
THE BIRCH
Two Bedroom/Two Bath – 940 sq.ft.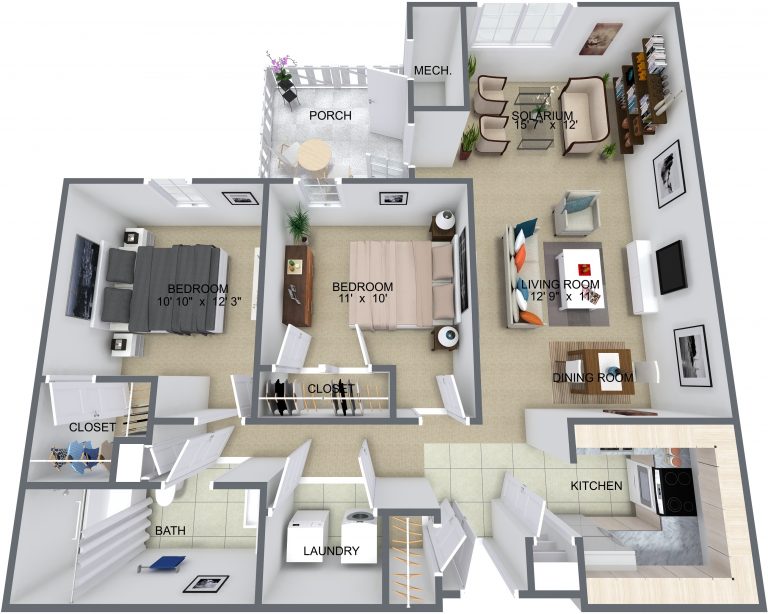 Income Guidelines:
3 Occupant:

$17,118

 –

$33,360

Annual Income
4 Occupants:

$17,118

 –

$38,100

Annual Income
I moved in about 4 months ago. This is my first apartment by myself and I am very happy to call this place my home! I did a lot of research on places around here and decided on this. Honestly, I was a little worried about the apartments behind this place but after talking to the manager, I am happy to report she was right about us being off to ourselves! I love my apartment and I love sitting on my balcony since it overlooks the pool and the rest of the community. I work until 5 then go to Crunch fitness up the street so I get in late and there is always plenty of parking and light. I also see security drive through. And the staff here is great, the office and maintenance are friendly and always wave or smile. I'm definitely going to renew my lease!
Stephanie R.

Beautiful place to live. The apartments are well kept by the staff. The office staff are one of a kind they are always willing to assist you no matter what the situation is. The community room is a very relaxing area where you can sit in the rocking chairs outside or just watch tv inside. Many activities for the residents. This is a place to call home. Thank you to the staff.
CHERYLE W.

I have been here almost 2 months, & I can't begin to express just how much I love it here…the grounds here are BEAUTIFULLY kept, the office staff are precious!! Sweet, and WANT to make us feel comfortable. Well I AM!!! I feel comfortable to get out & walk the neighborhood! I'm in a one bedroom, the bedroom is HUGE..I am upstairs, I have a BEAUTIFUL patio, great scenery. I've seen lovely deer…I have a fireplace!!! I'm sorry that I'm rambling on…but I FEEL VERY BLESSED HERE.. So if you're looking for a sweet place to call HOME….LOOK NO FURTHER…have a blessed day!!!"
Debbie B.
I have never felt safer than I do in Forrest Pines Senior apartments. I know it's a well sought after place to live. The building is locked, has an elevator and beautiful decorated hallways. This community is brand new. The doors are operated by a locked system. Only residents can open the doors. If they choose to open the doors for strangers, I would be very much surprised. Everyone here is wonderful. My neighbors are fantastic and so is the office staff. I am so glad to have a place to call home here. I have nothing but good things to say about this complex. I have been living here for 8 months, and hope to be here for many years to come. The parking lot is all lit up. Patrol cars come by often and check out the area. There is nothing unsafe here. The apartment community next door, our Sister apartments, are also very quiet and calm. So far, I have not seen any problems. The apartments are spacious and the balcony is GREAT. We live on the fourth floor, and I love it!!!!
CAROL Y.
Visit our leasing office today or contact us to schedule your private tour. We look forward to meeting you and helping you secure your new home at Forrest Pines Senior.